Take an Edinburgh Ghost Walking  Tour
The  is an experience that takes you around some of the spookier areas of Edinburgh. Your expert guide will escort you around the city's most haunted sites and share the spine-chilling tales associated with these locations.  On this tour you will visit sites that include Edinburgh Castle. Here you will learn about the myths, legends and hauntings associated with this ancient Scottish location.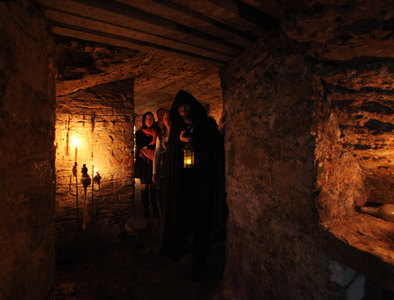 You will pay a visit Makars' Court to search for the ghost of Deacon Brodie, believed to be the real Dr Jekyll and Mr Hyde!  Discover the frightening stories of horror in the Mary King's Close Haunted Alleys. See if  you can discover the spirit of Mrs Guthrie, murdered by her jealous husband in Bell's Wynd .This is just one of the many tales that will send shivers down your spine
.
Will you be able to glimpse the phantom printer of The Scotsman's news building now an Hotel
(See our Haunted Hotel link  you may want to stay there )
A ghost tour never seems complete without a trip to the site of a scary haunted graveyard. Many have described this graveyard as disturbingly eerie.
The tour normally ends in a Haunted Pub location, where you can recover your composure over your favourite tipple Are you ready to be seriously spooked? Then book your tickets for the Edinburgh Ghost Tour now – before it's too late!……
 See more at:        [wpi_designer_button id='1919′ link="http://www.partner.viator.com/en/18289/travel-tips/Edinburgh-Ghost-Walks-And-Tours/ttd"] [wpi_designer_button id='2455′]
Need some ghost hunting equipment? Check out our equipment page ?