Explore Margam Castle
Port Talbot Wales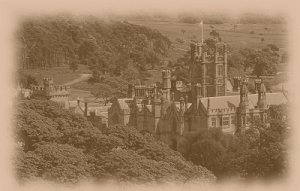 This  sinister and frightening haunted castle has been investigated by many of the well known   ghost hunting TV programmes.  This site has featured in Most Haunted and Ghost Hunters International episodes. Margam Castle did not disappoint  theses investigators and produced some exciting and disturbing paranormal results.
You too can investigate the ghostly  Margam Castle white lady who is often seen on the gothic stairs . She  has been often photographed, and sensed, so will you see her on your ghost adventure?
Dating back the 1800's. Margam Castle is  really one sprawling Gothic Mansion. Some report they feel unwelcome in this very sinister and  dark location. Margam has the foreboding figure of the murdered game keeper . He always makes sure his anger and presence is felt by those brave enough to visit. Is it his disturbed spirit pushing guests down stairs, slamming  heavy doors and causing other poltergeist activity?
The mansion has so many cold  rooms and dark corridors,  that it is no surprize there is so much activity within its walls. Children have been heard in the nursery and  soldiers seen in the back of the stairwell. Who will be watching or stand next to you? What will discover?
[wpi_designer_button id=1919 link="https://www.hauntedrooms.co.uk/events/margam-castle-ghost-hunts/?aff=31&campaign=MARG"]